How SEO Actually Works From Real Client Examples
We create intelligent web designs, for mobile devices and desktop or laptop devices. We use persuasive psychology to write convincing content and ad copy, as well as get people ranking #1 in Google Maps and Google Search.
Google Ad Campaigns & Google Map Ranking
We make bigger, better Google Ad Campaigns, usually setup and running in 24 hours. From massive online stores, law firms, health clinics and contractors to mom n' pop local shops. 
Most people don't understand the value of persuasive psychology and emotional intelligence like we do. A single well used word or phrase can sometimes make a 20% difference in online lead generation.
About 50% of all local online leads now come from Google Maps, depending on the service. We also get businesses found in Google Maps in the top positions, and we do this VERY quickly. In months you can beat out the competition that has been there for years or even decades before you.
"If you don't change with the times, you become an old timer."
Adapting to all the new changes in online advertising, new features and techniques, is an ongoing uphill climb that requires regular attention to stay ahead of the game.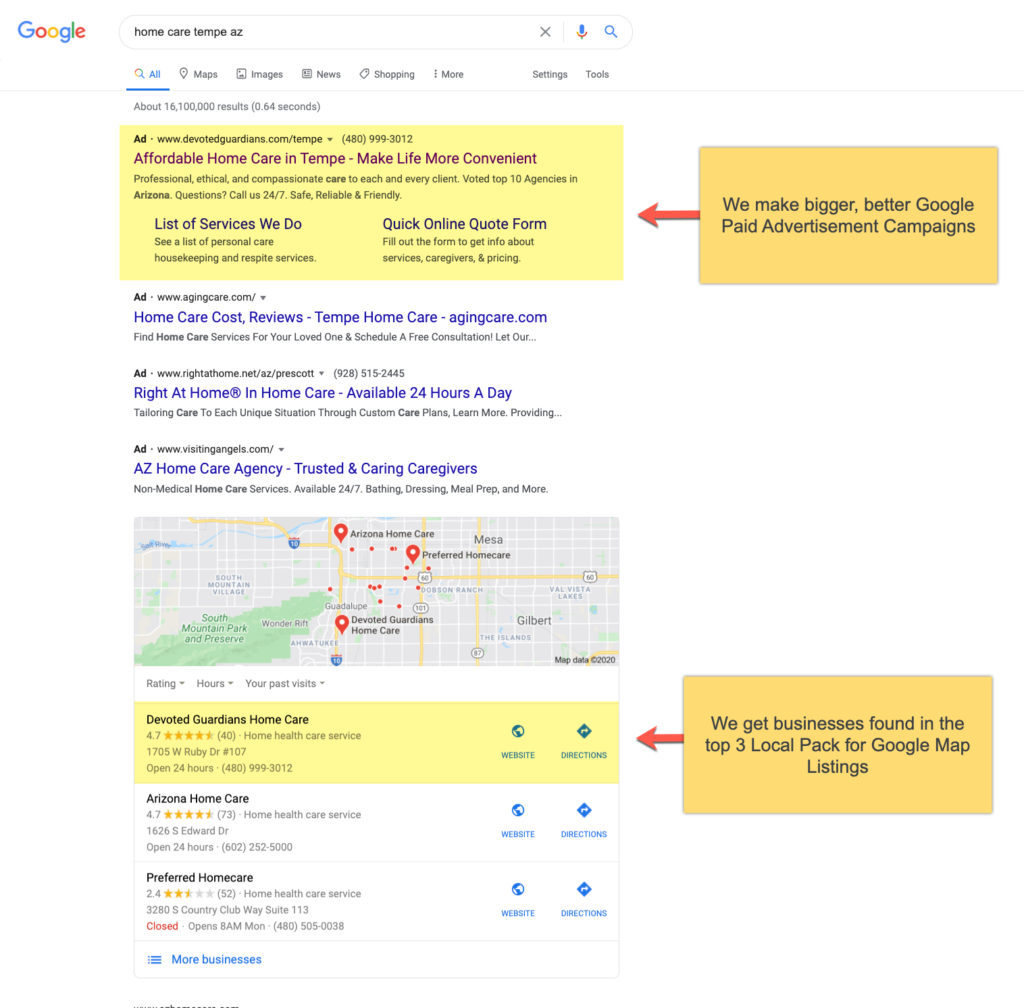 Voice Search & Authority Value Ranking
You see these 'Snippet' results in the Google search when you are looking up questions.
These are also "voice search" results
These kinds of results are very valuable for your Authority Value in Google. 
We develop "Authority Value", both locally and nationally, for clients by ranking them #1 for Voice Search and Snippets.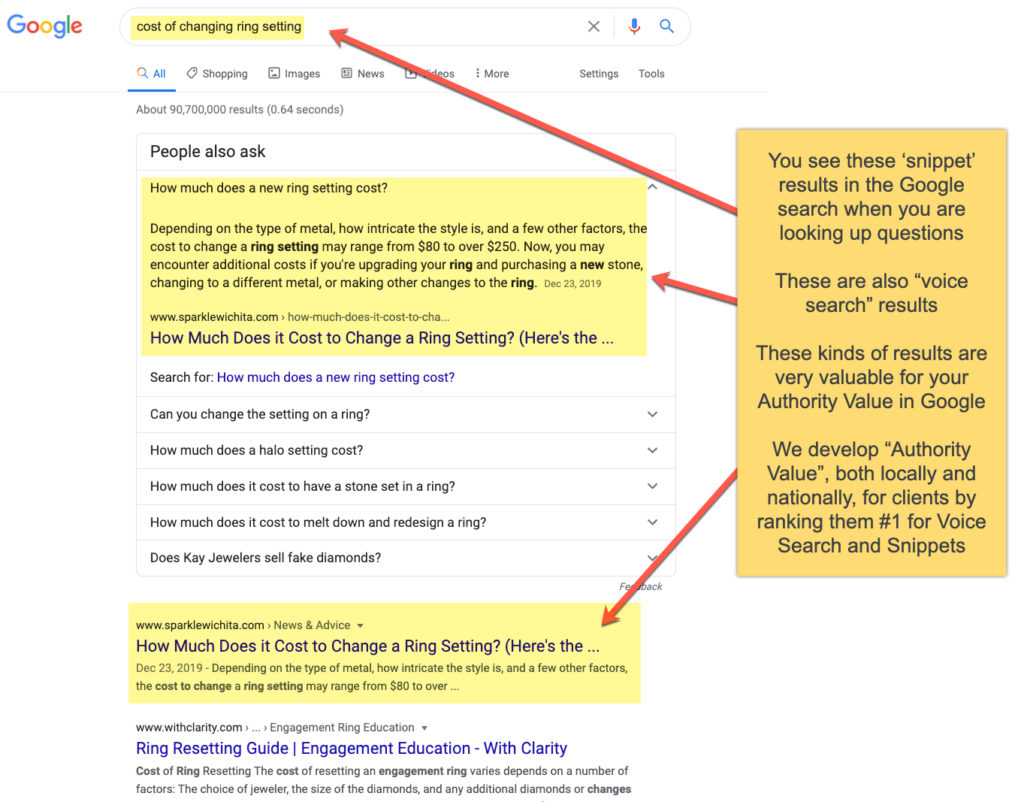 Main Keyword Tracking & Reporting
We track and monitor the main keywords ranking positions in Mobile Search and Desktop Searches
This account is 2 months old, so in two months, the keyword "bed bug exterminator" in Cape Coral, FL has moved up 22+ positions, from Page 3 to page one in #7 position.
Individual Keyword Ranking Chart
We started ranking a chiropractor in February, 2020 for "chiropractic clinic", in 4 months, he went from position #103 to #5 on first page.
We can see the individual keyword ranking value in real dollar amounts. 
*Based on the national average value of that keyword.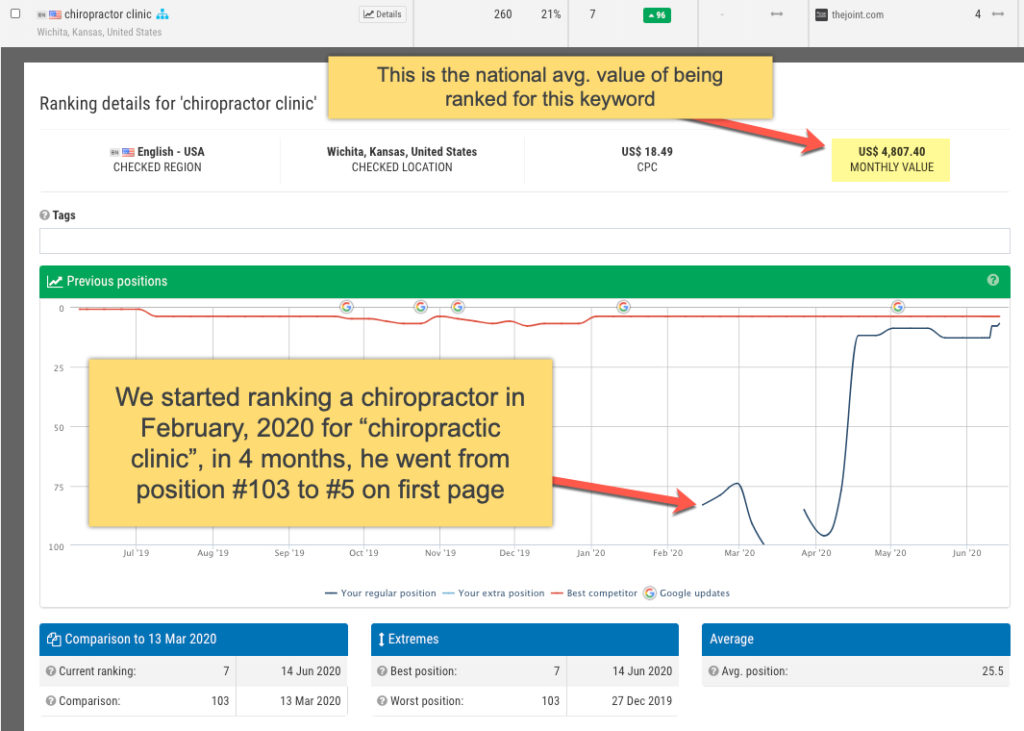 Masterful Page Load Speed Optimization
Website page load speed is incredibly important for user experience and reducing bounce rates.
"Bounce rate" is best described as someone who goes to or tries to go to your website and leaves immediately without browsing or scrolling or clicking.
"Walmart did a public case study and found that every 1 second of load speed = 2% in online sales."
So if your load speed is 8 seconds, there is a chance you are losing 16% in sales.
Here is a comparison between our client, 2nd Chance Bail Bonds, and their competitor, Big Fish Bail Bonds.
Big Fish used to outrank 2nd Chance, until we started working on their SEO, Website, Page Speed and Advertising Campaigns.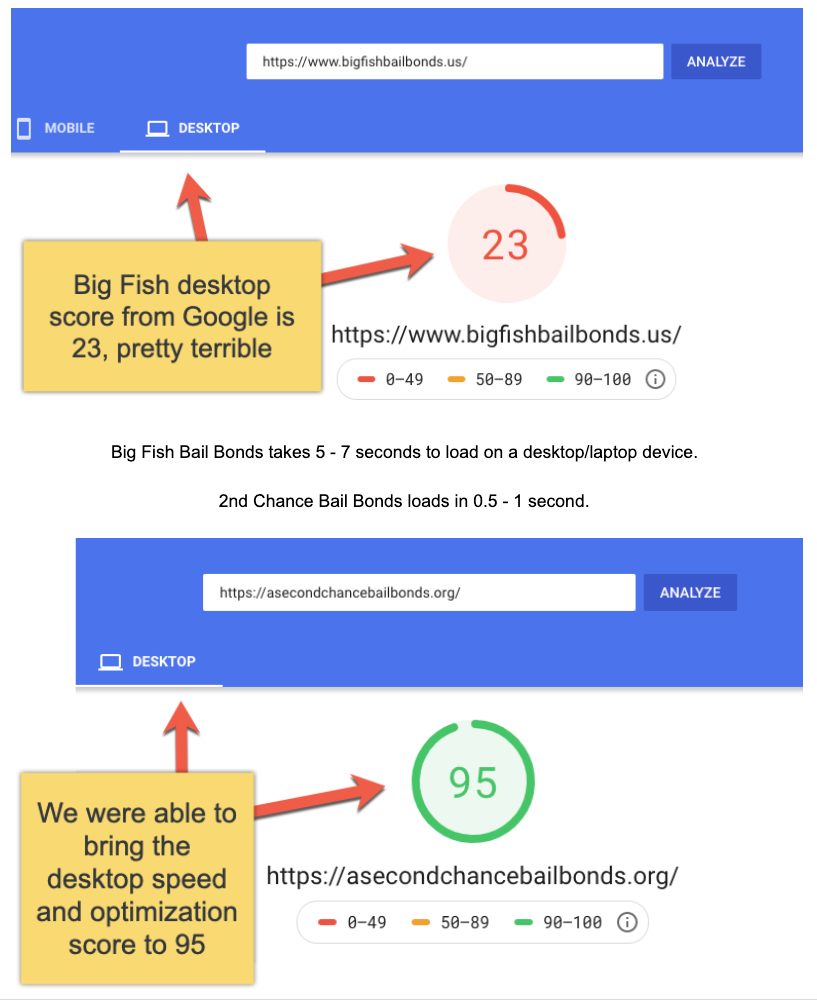 Want To Dominate The Google Search Results?
We've helped businesses in Arizona, Kansas, Florida and around the world make millions of dollars.
Let us get you the customers and you worry instead about fulfilling the services and orders.
We love what we do, and we're amazing at it.